BATTLE OF KETTLE CREEK
Commemoration & Living History
February 8 - 9, 2003
Background:
The Battle of Kettle Creek was fought on February 14, 1779. It was one of the most important battles of the Revolutionary War in Georgia. At that time, the State was almost completely under British control. Col. Boyd with 600 British sympathizers (Loyalists or Tories) crossed the Savannah River into present-day Elbert County enroute to the British army then at Augusta. Patriots Col. Andrew Pickens with 200 S.C. militia and Col. John Dooly and Lt. Colonel Elijah Clark with 140 Georgia militia marched to overtake the Loyalists. On the morning of the 14th, Boyd and his men were camped here at a bend in the then flooded Kettle Creek. Their horses were grazing, sentries were posted, and most of the men were slaughtering cattle or searching for food. The Patriots attempted to attack the Loyalist camp by surprise but failed and a desperate battle raged on both sides of the creek for three hours before the Loyalists finally broke and fled. Col. Boyd and 20 of his men were killed and 22 captured. Pickens and Dooly lost seven men killed and 14 or 15 wounded. Pickens later wrote that Kettle Creek, "was the severest check and chastisement, the Tories ever received in South Carolina or Georgia."
Guidelines:
We are pleased to have you participate in our living history program. For this event, we will be portraying both Patriot and Tory Militia. We hope your experience at Kettle Creek will be a memorable one and inspire others. To insure your safety and enjoyment at the event we do require each participant to read, understand, and abide by all the guidelines that support activities at the Kettle Creek Park.
Safety is first and foremost at this historic site.
Weapons shall never be pointed toward another individual, whether participant or visitor.
All clothing must be authentic and accurate to the period from 1750-1780.
Wristwatches, modern glasses, bracelets or other modern jewelry are not allowed. Period eyeglasses or contacts must be worn.
Men and Women will portray respective roles of the time period. Women are not allowed to dress as soldier (militia). One local woman Nancy Hart (War Woman) was considered a combatant, scout and spy for the Patriots and retained role as mother and wife.
All swords, bayonets, knives, tomahawks, hand axes, or other edged weapons should be in proper working order and sheathed at all times unless being used in an interpretive presentation. Traditional 18th century knives and axes are appropriate.
No cigarettes. Smoke a pipe.
No camp furniture (unless on recruiting duty), no fire irons (use wood substitute) and no lantern stands.
All weapons must have frizzen cover and proper leather or lead cap to hold flint. Flash guards are highly encouraged.
Cooking is to be done in period fashion and limited to period foods. Beef on the hoof and parched corn was available at this battle.
Event Schedule:
This is the schedule of events for the Sons of the American Revolution commemoration that will be held at Kettle Creek the weekend that we are there. We will participate in the commemoration, but will add some unit specific activities. More details will be sent out soon by Brett Osborn regarding the weekend activities
9:30 - 10:30 In Washington, Ga., we will conduct an Oath of Allegiance for the Sons of the American Revolution near the Mary Willis Library. This will require only 5-6 Refugees. Remaining Refugees will be on site preparing for the public.
11:00 – 1:30 Walking tour of the Battlefield – During the tour the public will be led through our living history area. We will be doing several activities including:
mending cloths

preparing food

drilling

weapons firing
2:00 – 3:30 6th Annual Battlefield Celebration – Hosted by the Georgia Sons of the American Revolution. Will include a wreath laying ceremony and will feature the 434th Army Band from Ft Gordon, Color Guards, Army Ceremonial Rifle Teams, Continental Drum and Fife etc.
The flyer that was sent out by the SAR also has info regarding accommodations in Washington. If you need this info, or have any other question contact Brett Osborn directly at (770) 471-6490 home or email osbornbp@aol.com.
Map: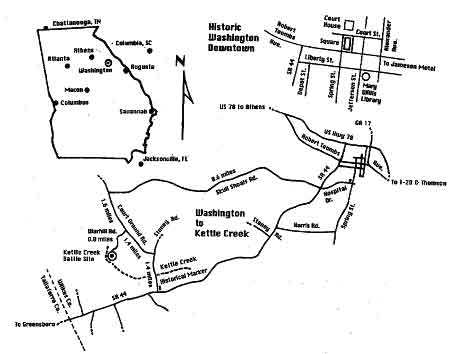 Click on Map for printable version in Adobe Acrobat format
Registration form:
Click here for the event registration form in Adobe Acrobat format